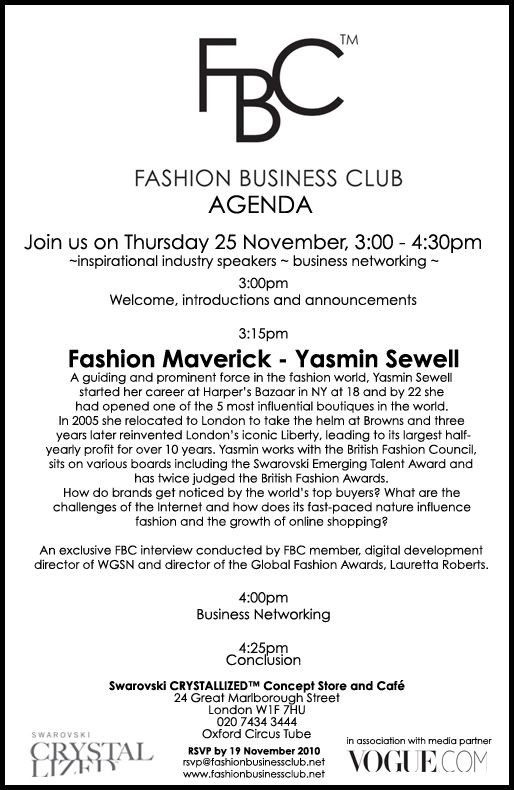 So on Thursday I got to go to my first
Fashion Business Club
meeting. I was surprised by a last minute invitation from one of my favourite fashionistas, Courtney Blackman, and so rushed to Swarovski CRYSTALLIZED after work.
I hadn't actually had any time to think about what I would experience and so have no idea what I was expecting. But whatever it was, the reality was way more brilliant.
As I raced in, registered and took a seat, I began to realise that I was about to have another brilliant ReallyRee moment. I looked over the list of attendees and there I was amongst designers, editors and creative directors. Very exciting!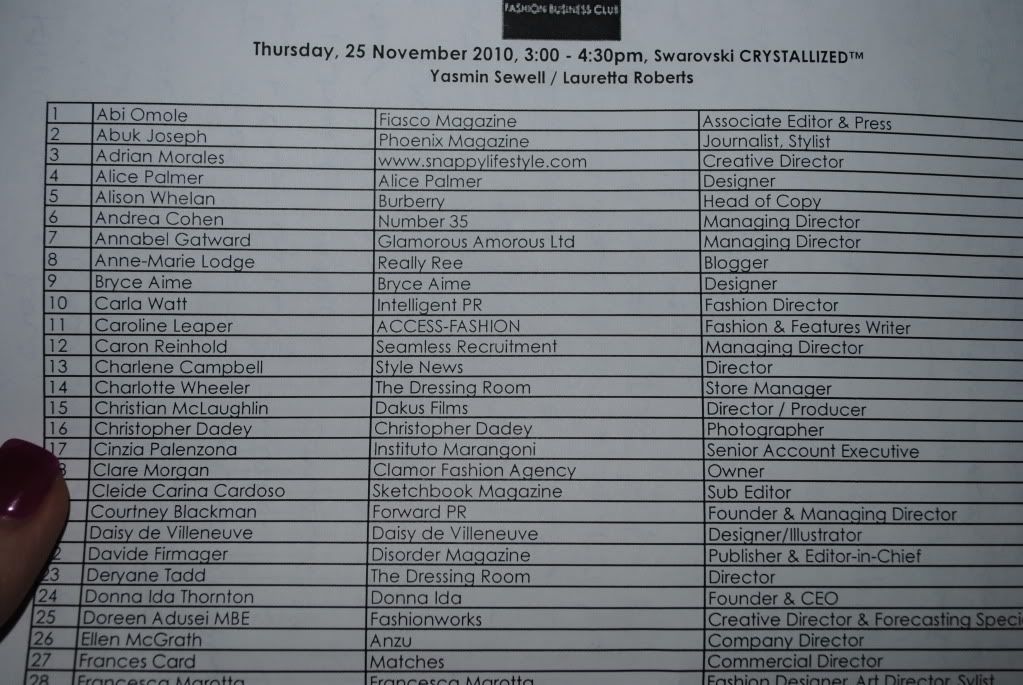 Now the FBC meets
six times a year, on the last Thursday of every other month at the Swarovski CRYSTALLIZED™ Concept Store and Café, Great Marlborough Street, London.
So the focus of this meeting was
Fashion Retail Consultant, Creative Advisor and Trend
Forecaster, Yasmin Sewell who was to be interviewed by FBC member Lauretta Roberts, Digital Development Director of WGSN and Founder and Director of the Global Fashion Awards.
This was seriously interesting stuff and I could feel my adrenalin start to rush as I waited for it to start. And I wasn't disappointed. Listening to the discussion was completely fabulous. Yasmin is amazing. Considering that she has not so much as a wrinkle on her face, blimey she has achieved an absolute tonne!
Having neither enjoyed, nor thrived at, school, Australian-born Yasmin decided it best to get straight into the world of work, and started out working in Real Estate where she connected with a business guru who shaped and steered her early business direction.
Having not yet chosen a path, she did know that wearing a suit was not something she wanted to do, and so looked to fashion as a way of expressing her talent and creativity that she believes was inherited from her mother.
So at the age of 18, she upped and left Australia for London, where she did a brief stint as an assistant window dresser at Browns (mainly comprising painting walls). From there she made the leap to New York where she accepted an internship as a Booking Editor at Harpers and Queen (now Harpers Bazaar). And this was the start of big things.
Lauretta Roberts and Yasmin Sewell
In 1999, and back in London, Yasmin opened up her boutique, Yasmin Cho. Although massively constructive in discovering new design talent and listed as
one of the five most influential boutiques in the world by the New York Times, the store closed two years later.
The result of bad advise, lack of business experience and financial backing, the 'failure' (a term I an loathe to use considering the boutique's wider impact) sent Yasmin back to her homeland to lick her wounds. Listening to her speak, it's clear to see that this was a major event and learning experience in her life.
Yasmin stayed in Australia until one day she received a phone call from Joan Burstein of Browns asking her to return to London and overhaul Browns Focus. And that she did.
At first she was nervous, having been out of the loop for a couple of years, and so had little but her intuition to cling to. It served her well ,however, and her reinvention of Browns Focus was massively successful, Acne being one of the first brands she championed. Her love affair with that brand still continues.
Lauretta Roberts, Courtney Blackman, Yasmin Sewell and Alison Whelan
After Browns, Yasmin went on to work her magic on Liberty. She transformed Womenswear from a stuffy, crammed 'product dense' chaos into the ecelctic, relaxing and stylish shopping experience that it is today. She brought the traditional Liberty die-hards with her too. Now that's the trick!
The thing that impressed me most about Yasmin was her own personal take on fashion. Although she is associated with High Fashion, she also loves the Hight Street, and the fast fashion that it brings. Her favourites include Zara, Cos and Whistles.
In the super exclusive, often snobbing and excluding world of fashion, Yasmin's approach is remarkably inclusive....I enjoyed listening to her so much that I wanted to scribble every word she said.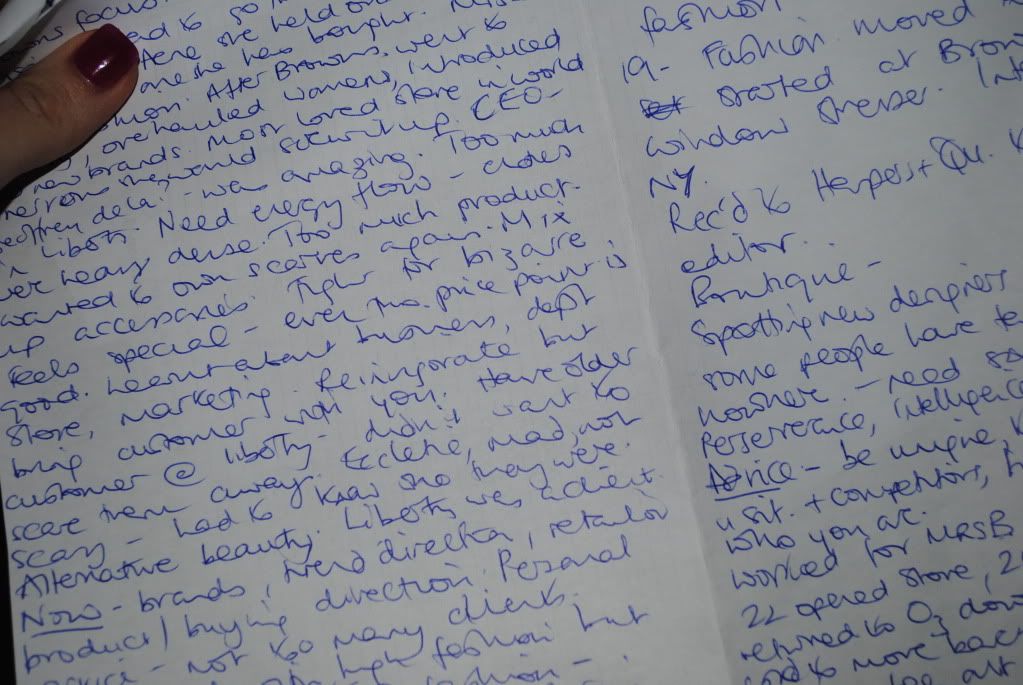 So often, in this arena I force myself into via ReallyRee, I have felt substandard and inferior, but here, listening to Yasmin, I felt like an equal and a fellow fashion passionista (whatever that really means!?!). Super refreshing and very welcome.
So how does she do it? How does Yasmin Sewell know what we girls want to wear in six months time? Well the answer is, it's a feeling. She does look at what we love now, and ask the question 'Where will it go?' but at the end of the day it is her own magic, her own talent (my words not hers) that has made her able to hold the hands of young designers and lead them to the success they deserve.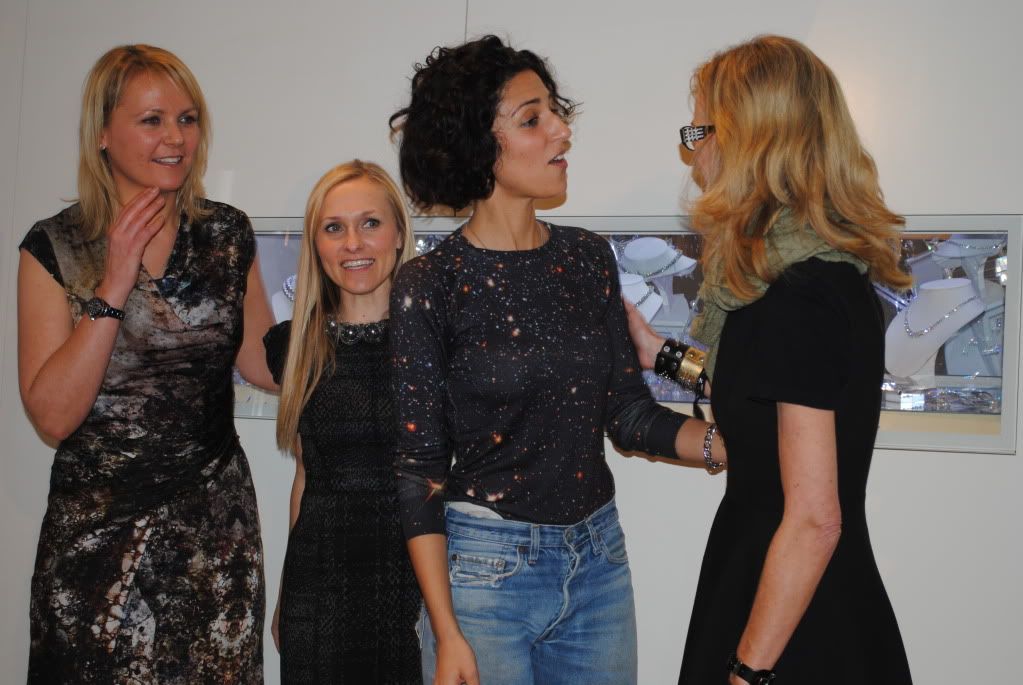 Lauretta Roberts, Courtney Blackman, Yasmin Sewell and Alison Whelan
Just amazing. I completely loved her. Without sounding like a stalker (or at least not wanting to) she's the kind of girl I would like as a friend. She certainly inspired me and I walked out of FBC with an extra bounce in my step and a tiny little bit more belief that I belonged in this scary world of fashion, in my own way.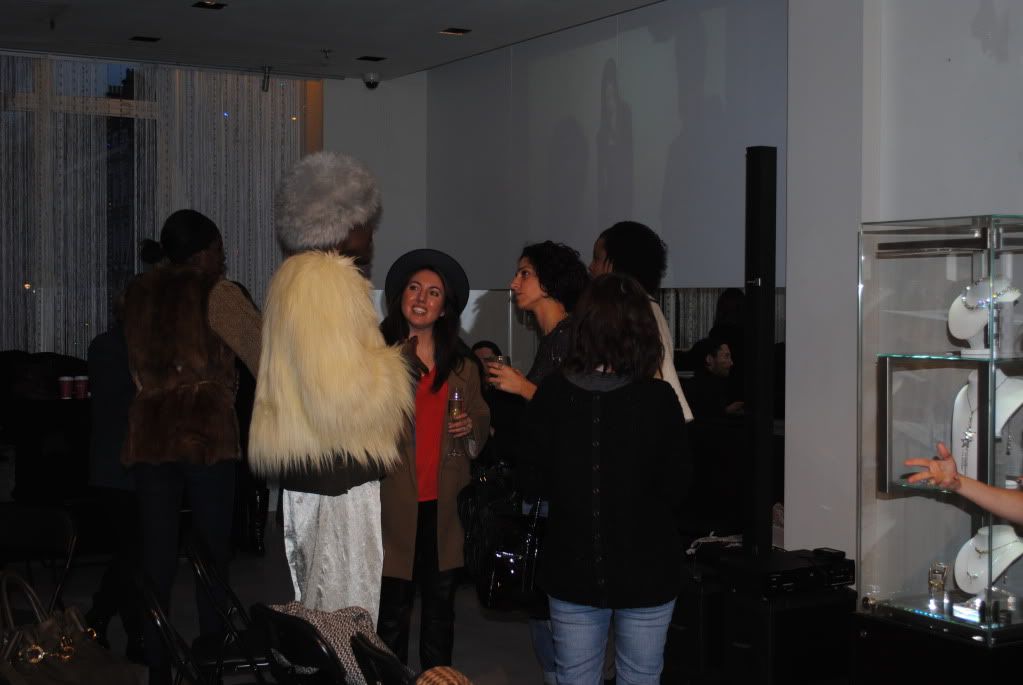 Thanks FBC for inviting me - it was a fabulous experience.
So how does the fashion world make you feel?
Can't wait to hear from you
Ree
XXX