Right I am trying to get organised for Christmas, and I have decided that, as I discover all the fabbie things out there, I am going to let you know about them in The ReallyRee Christmas Gift Guide. Good eh?
Well you know I love Xen-Tan and one my favourite products is Transform, the gradual tanner.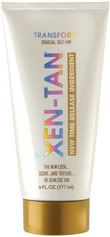 I have tried a gazillion gradual tanners and I have to say that this one from Xen-Tan is top of the pops for me. You literally cannot go wrong with it, it is so easy to use. You get the fabulous olivey Xen-Tan colour and you can decide how light or dark you want to go.
I have actually reviewed Transform before, so if you would like a bit more of a read about it,
here
is where you should click!







In the Luxury Gift Set, you also get the Body Scrub and the application mitt.
The Scrub is delish. It is super minty and fresh and light and as well as lightly exfoliating, it really wakes me up and gets me going in the morning
.

It's for use before, during and after tanning, and it's light, grainy texture refreshes the skin but doesn't strip the colour away from the tan you already have. The skins feels nice and soft leaving the body smooth and silky.
The mitt is also great. I have tried loads from different brands, and this is a fave. Really soft and luxurious.
It's a great Christmas gift because there's everything you need to get the glow in time for celebrating the New Year. And it all comes in a handy Zen-Tan cosmestics bag. Personally, I'd love to receive it. But of course, I have bought it all already!








For more information and to buy, visit www.xen-tan.co.uk
Have you started shopping yet?
Can't wait to hear from you