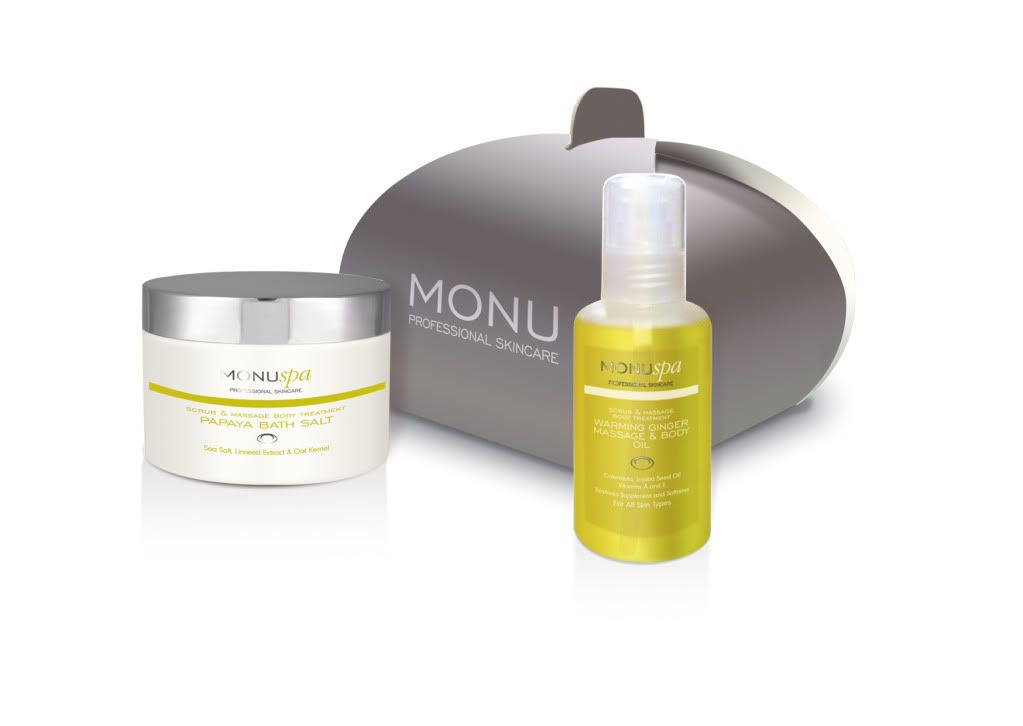 Monu Home Spa Duo, £33
This set from Monu is absolutely yummy. The smell of the products transports you instantly from where you are straight to the spa. It would really make the most gorgeous Christmas gift.
The set includes Papaya Bath Salts, Warming Ginger Body Oil and a natural sea sponge. And when I tried it out for the first time, it wasn't long before my bathroom became my own personal spa.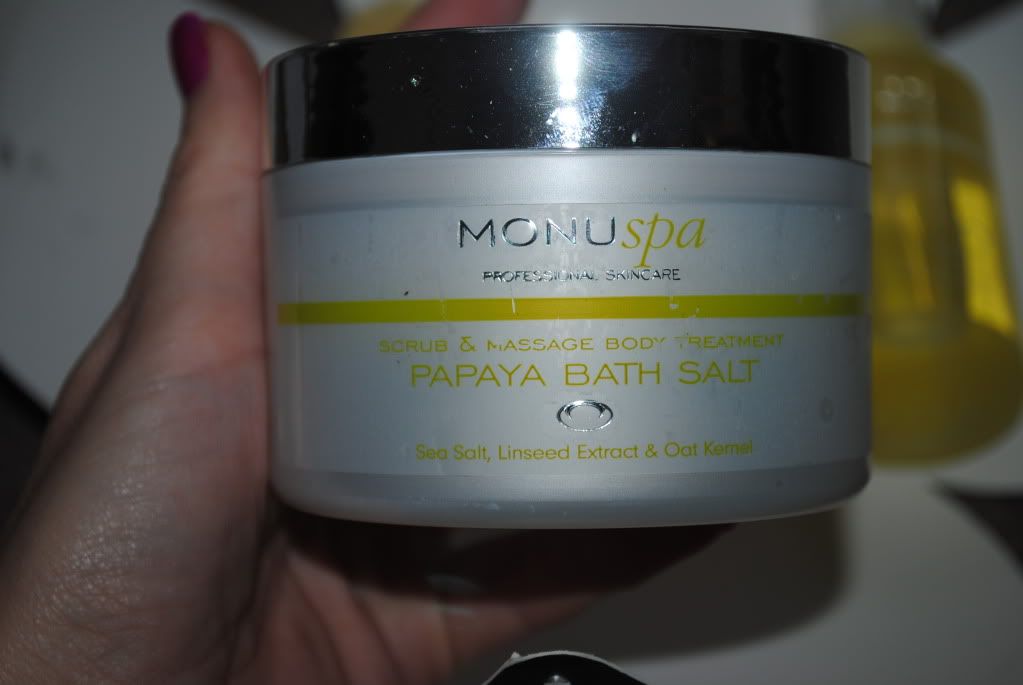 Monu Papaya Bath Salt
The Papaya Bath Salt is lovely. I ran a great big bath, chucked a handful of the salts in and then had a lovely soak for fifteen minutes with a copy of InStyle.
Add to a warm relaxing bath, this sea salt softens, soothes and improves skin tone.

Invigorating Sea Salt softens, smoothes and improves skin tone.

Lactic Acid and Papaya Extract refine the skin to reduce the appearance of imperfections.

Nourishing Linseed Extracts replenish dry and dehydrated skin, restoring softness and elasticity.

Oat flour soothes and calms irritations.

The elasticity and lipid content of the skin is improved. Skin feels soft, smooth and nourished.
The bath was a delight. In spite of the fact that taking a bath is way more relaxing than a shower, I am not always a big fan because I find that my skin tends to dry out.
But this bath felt very soothing and comfortable and I could feel the nourishing elements of linseed and oat flour doing their stuff.
When I got out, my skin felt soft and hydrated. Now anyone that follows this blog will know that I can't last five minutes after getting out of the bath or shower without running screaming for the moisturiser. Sometimes I literally feel that my skin is going to crack open.
But not this time. I was surprised at how nice my skin felt, particularly after a bath which usually strips my skin of all moisture. It felt great.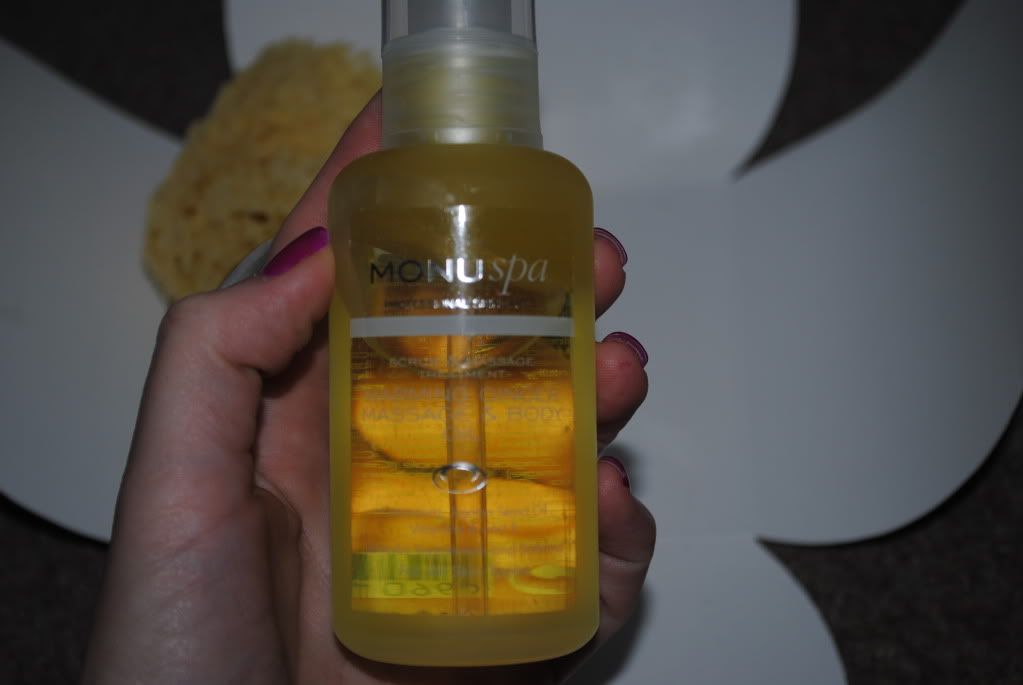 Monu Warming Ginger Body Oil
The Warming Ginger Body Oil smells absolutely delish.
Monu says,
All you need for a complete spa experience, this soothing treatment oil not only doubles as a nourishing emulsifying bath and shower oil, but add our bath salt, and it transforms into an invigorating scrub to smooth away dead skin.

With Calendula, Jojoba Seed oil and Vitamins A and E.

Restores suppleness and softness.
It's divine. It's exactly everything that I love in a product. It filled my bathroom with yummy zestiness and it felt incredible on my skin. I'm a complete sucker for an oil, due to my obsession with avoiding dry skin, and this one really does it for me.
It went on beautifully, started to sink in straight away, and a little goes a long way. As I write this, my skin still feels really hydrated and I applied it about 9 hours ago. Good going eh?
I also love the idea of adding a drop to the bath or smoothing over the skin as soon as I have turned off the shower. It's also ingenious that you can create a super deluxe body scrub by combining the two products. I haven't yet tried that.
This is the first time I have used any Monu skincare and this experience has left me very impressed and keen to try out more.
The products are brilliant quality in my opinion and for £33, I think the set is great value for money. A perfect pressie.
Have you tried anything new recently?
Can't wait to hear from you
Ree
XXX