Good news for girlies everywhere...Justin Beiber has created a lovely girly fragrance, just for you! And it's available from today at Harrods!
I popped along to the launch yesterday (which unfortunately Justin wasn't able to attend) to check it out. And I have to say, there is a serious buzz around this latest move from the global phenomenon, fondly referred to as 'the Biebs'!
The Harrods fashion and beauty big wigs were really excited, and I have to say, it was fairly contagious! The launch event took place in Harrods' brand new Ice Cream parlour (fab by the way) and we were treated to Justin's signature icecream- the Beiber Bocker Glory.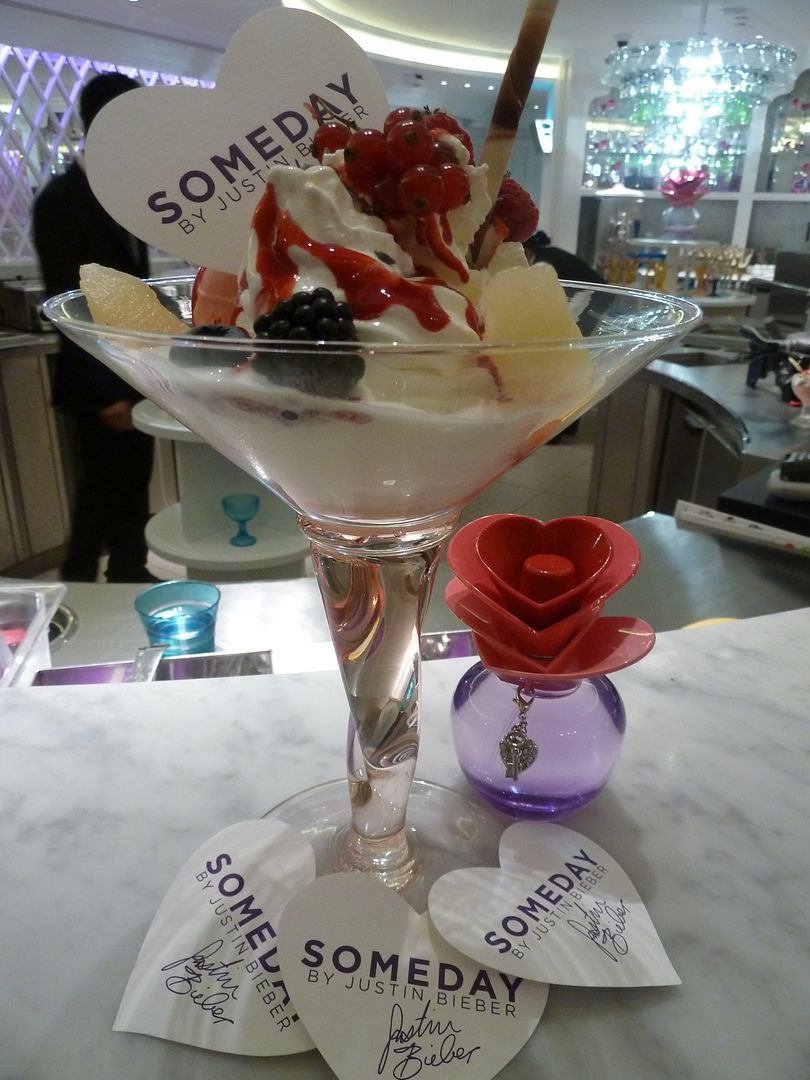 Justin Beiber Fragrance Launches Exclusively at Harrods
Justin Beiber Fragrance Launches Exclusively at Harrods
Super yummy and on sale in the Harrods ice Cream Parlour for one month from now with all proceeds going to charity.
And on the subject of charity, there is a whole lot of that going on with the fragrance too. SOMEDAY, Justin Beiber's first fragrance, has been created in partnership with Give Back Brands, a new lifestyle products company committed to donating its net profits to charity.
"SOMEDAY is the idea that we can change the world, make our dreams come true, and even be with the one person that means everything." said Justin Bieber. "Giving back has always been incredibly important to me, but let's be honest… I wanted to create a fragrance for my female fans that I can't get enough of… that I want to get next to and I can't stay away from. I know they'll love the scent, but also the opportunity to support some amazing charities. It's a gift that gives back."
And here's the lowdown on the fragrance...
Top notes of Mandarin, William Pear and Wild Berries, middle notes of Jasmine, Water Lily, Creamy Florals and Coconut Orchid, with a dry down of Sandalwood, Vanilla and Soft Musk. It's super fruity and I have to say really quite pleasant - perfect for a young girl with a big crush on 'the Biebs'!
SOMEDAY is exclusive to Harrods and launches today. The fragrance starts at £23 and the range also includes a body lotion (£15) and a hair mist (£12.50).
Go girlies!!
Ree
XXX